Xenoblade Chronicles 3 is an upcoming game in the Xenoblade universe that will bring completely new characters and a new story, as well as a similar but improved combat system that is more reminiscent of MMO titles than single-player games. Xenoblade Chronicles fans wouldn't like it any other way. The new sequel is also bringing new classes, so keep reading to find out which classes are in XC3.
Related: Everything We Know About Xenoblade Chronicles 3: Release Date, Trailers, Plot, Characters, and more
All Classes in Xenoblade Chronicles 3
See the list of all playable classes in Xenoblade Chronicles 3 below. Just keep in mind that you have to reach a certain part of the story to unlock all of the available classes, as well as the ability to swap them between characters.
Swordfighter – DPS, focused on attacking, well balanced.
Zephyr – Good evasion and counters.
Medic Gunner – Healer class for restoring the health of the party and casting buffs.
Tactician – Support class that can disrupt enemies.
Ogre – Uses hammer as the main weapon for slow but heavy damage.
Heavy Guard – A Tank that uses gigantic weapons and can absorb damage.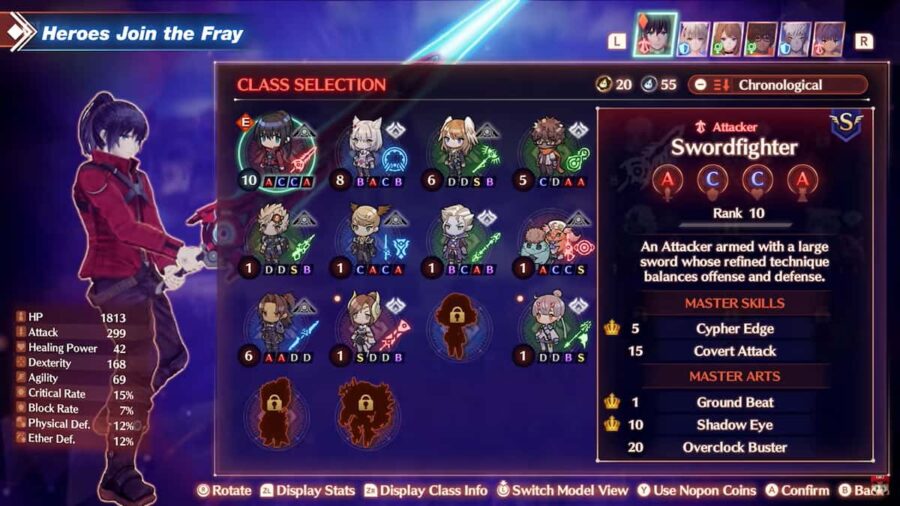 Changing Class in Xenoblade Chronicles 3
Characters in Xenoblade Chronicles 3 can swap classes in the Class Selection option once the additional classes are unlocked. Changing the character's class changes the moves available to them, as well as the statistics. When you level the class, it is also possible to transfer some arts to other classes, creating a hybrid mix between the two better suited for your playstyle.
Xenoblade Chronicles 3 will be released exclusively for Nintendo Switch on July 29th.
For more Xenoblade Chronicles 3 guides here at Prima Games check out, Is Xenoblade Chronicles 3 Character Customization Good? – Answered, Everything New in the Xenoblade Chronicles 3 Expansion Pass, and Xenoblade Chronicles 3 Release Date Now Sooner Than Expected.