Nintendo's shooter series does a lot of weird things, but it turns out some of those things are good. One major implementation is map rotation, which rotates content to keep things fresh for the Splatoon population. Splatoon 3's map rotation isn't much different from before, including how you check in on it. Here's how to do so.
There are two ways to check the map rotation in Splatoon 3. The first one you can do outside of the game, using the SplatNet 3 "app" within the Nintendo Switch Online smartphone app. Within the app there's a whole section for this, which you can check out via the "Schedule" button on the navigation bar at the bottom of the user interface. In there you can see the day's schedule for Regular Battle, Anarchy Battle and Salmon Run maps.
There are a couple little features there, such as being able to check a few stats if you click on a displayed map. Except for Salmon Run, which just blows up the thumbnail. But aside from the app you can also check out the map rotation within Splatoon 3 itself. For that you simply open up the menu with the X button, then press R to view the Stages tab. You can't see as far ahead as you can in the map, but if you wanna know what's happening in the next few hours, there you go.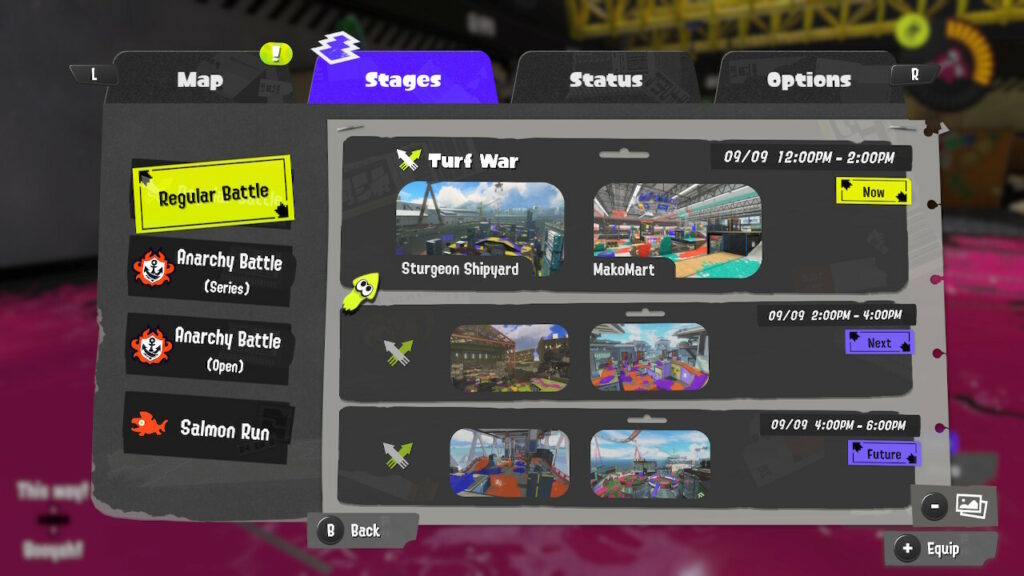 The SplatNet 3 space in the Nintendo Switch Online app is a weirdly powerful resource. You can check the map rotation schedule as we've detailed above, but you can also access your match replays and screenshots, order items from a unique storefront, scan QR codes for whatever bonus content shows up, save outfits and all kinds of other things I'd probably ignore if I didn't have this job. That's not a knock against the thing; I just don't care personally. It be like that.