What would life be if you didn't have both friends and enemies? Well, you can make both buddies and rivals in BitLife, and here is how to do so.
Can you Make Enemies in BitLife?
To make an enemy, you first need to make a friend. In BitLife, like in real life, you will make choices that will impact the future, and not everybody will get along with your actions and choices.
BitLife: How to Make Friends
Age up your character until elementary school. By this time, you should have already received a few friend requests along the way. You can also make new friends by looking at the list of classmates and/or coworkers and selecting the character you want as your friend.
You can see all your relationships, including family and friends, in the Relationships tab.
To make and maintain a friendship, you need to perform some of the following activities:
Gift
Party
Spend Time
Watch youtube
Conversation
Compliment
Concert
How to Make an Enemy in BitLife
Now that you have a few friends, it is time to turn them into your enemies.
This can be accomplished by following these steps.
Open the Relationships tab.
Select the person you want to make your enemy.
Click on the three dots next to their name and select the Change Our Status option from the drop-down menu. 
Click on the Enemy option from the list.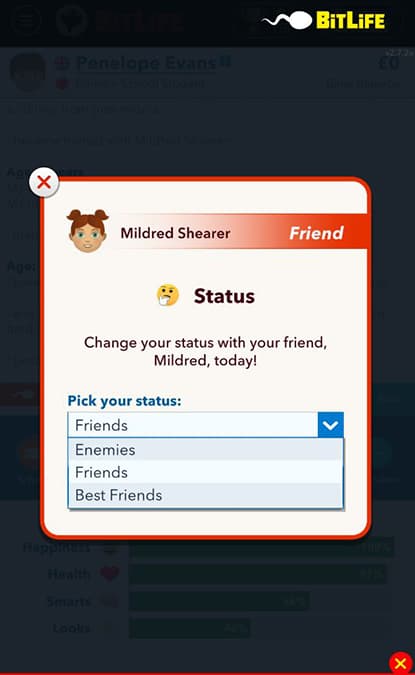 Now that you have made an enemy, you have a whole new set of activities. You will be able to start a rumor about your enemy, pull a prank on them, and insult them. 
However, if you go over the limit, the enemy can return the favor and insult you back, and maybe even try to kill you. If this happens, you can always file a lawsuit with the help of a good lawyer.