Nobody likes working for other people. Hell, most folks don't even like their jobs. How many hours a day do you lose doing something stupid to make some rich asshole money for their next yacht? You gotta deal with it anyway, 'cause rent is too damn high even for you and your three or four roommates. Rent sucks, work sucks, bosses and landlords suck especially. Everything is holding you back and expecting gratitude for scraps you have to practically beg for.
Saints Row says, "what if you could solve all that by blowing shit up?" That's the kind of energy Volition's new reboot-esque project seems to be powered by. Both literally and figuratively! After playing the first few hours at a preview event, I can see why the "Grand Theft Auto but sillier" series needed a refresh. The rags to riches appeal of gangster fiction was left too far behind. And even then, what "rags" looks like is so different now compared to 2006. The reboot let the team come with a new angle, and much more contemporary and relatable themes.
Saints Row Hands-On Preview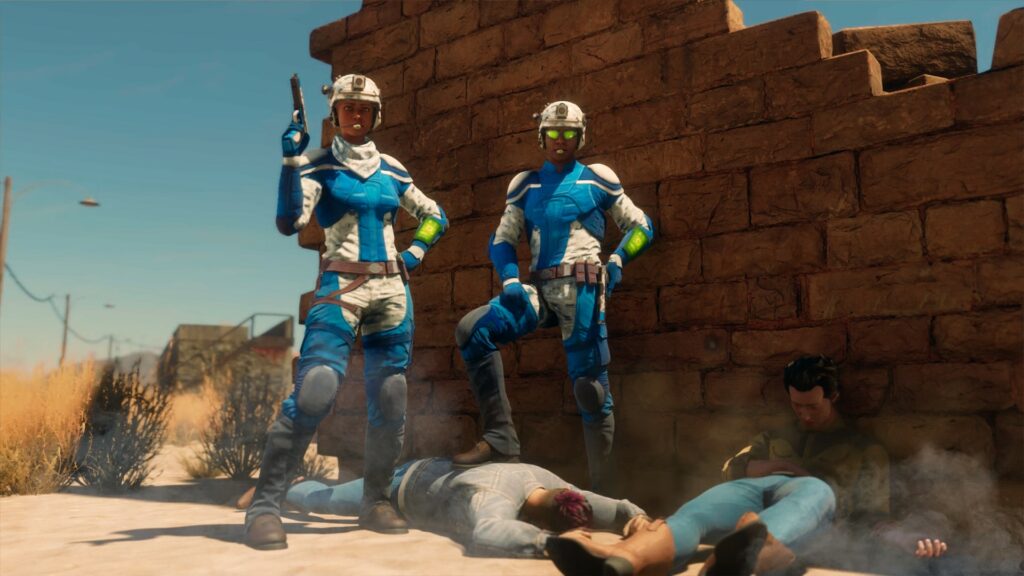 The new Saints Row starts in Santo Ileso, a fictional version of Nevada-ish territory in a world in which hyperbolic violence is everyday stuff. So, probably America in another 20 years or so. Your story starts on your first day as a PMC in a ludicrous company run by a tycoon playing cowboy, and everything about it sucks. But rent! Things obviously don't go well, and after a brilliant post-layoff sequence, you and your roommates (homies for life, but all members of different gangs) decide to flip it all off and start their own thing.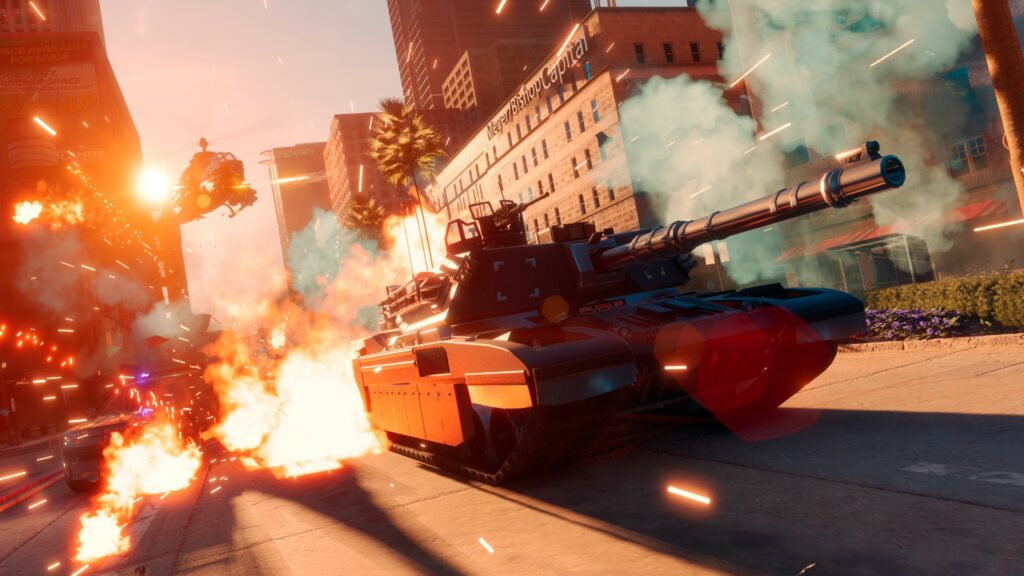 That framing is what kept me interested in Saints Row. The game itself is exactly what anyone would expect it to be, with a little extra unreality due to its over-the-top setting. Otherwise, you're clicking around your phone doing various missions, shooting several bullets, and blowing shit up. And following waypoints and stuff. It's a tried and true formula, with technological updates and a really in-depth character customizer (which you can even download by itself to play with ahead of launch!).
So I had fun, especially in co-op (unfortunately playing in co-op provided lots of unexpected jankiness in the build we used, from silly glitches to dysfunctional voice chat and one player getting locked out of cutscenes out of the blue. That's videogames, baby!). But I was much more invested in seeing the scenario play out than I was shooting at cars. That said, you can get up on top of a car while it's moving and shoot from there, which isn't quite as rad as highway surfing, but close enough. From the breakdown at the PMC company to the extremely out-in-the-open gang feuding, there's so much more of a world happening here compared to Saints Row: The Third. I obviously didn't get very far after a few hours of gameplay, but I left wanting to know what happens next.
Even though I had a clear favorite motivator, there were gameplay flourishes introduced I was super into. There's a meter of sorts in Saints Row that lets you use various special skills you unlock as you play. The very first one is basically an instant kill grapple that lets you toss a person to the ground after stuffing a grenade in their pants. Melee combat is a bit more involved too, with other kinds of finishers and different functions for each trigger button. Why shoot a boring gun when I can murk dudes with a spinning backfist? Exactly.
If I'm worried about anything heading towards Saints Row's August launch, it's definitely the jank. An open-world action game having issues is totally expected, but at times it felt like the software had no idea what to do with co-op. Perhaps it was an earlier build, and the one coming next month has more smoothed-out edges. And while nothing particularly game-breaking happened in solo play, there were a lot of weird… tracking(?) issues with things like takedowns.
For example, using the grenade maneuver mentioned earlier the bad guy would often sort of float around its side of the animation, while my character did their part to the air while the camera struggled to understand. Also, bumping a fire hydrant with a car maybe shouldn't send it sailing through the air like a Dreamcast-era Crazy Taxi on rocket boosters. That one fits the spirit a little more, to be fair.
When it comes to big, open-world videogames, jank is inevitable. I'm sure the dreaded "polish" will come up a lot, and lots of the weird stuff I ran into during the preview will fade away after updates. But what I'm really hoping doesn't fade is the story's early moments making such a good first impression. There are character dynamics at play and relatable circumstances behind it all, despite how silly everything else is. That works for me, especially if the game continues hitting the right balance. I'm definitely looking forward to seeing the whole story unfold as Saints Row's August 22 release date rolls around.