Final Fantasy 16 was unexpectedly announced at the PlayStation 5 showcase event in 2020 and it already appeared to be a well-developed project. After that, we got a new glimpse of the game in June 2022. at Sony's State of Play event. The new trailer shown at the summer presentation featured a lot more action and gameplay, as well as an estimated release date. It has also been confirmed that the game is nearing completion, with producer Naoki Yoshida verifying that it is currently playable from start to finish and that the only thing left before the release is some more polishing and tweaking – confirming our earlier assumptions that the next main Final Fantasy game is almost completed.
Final Fantasy XVI Release Date?
Earlier rumors spoke of a possible June 2022 release, with the first trailer even featuring a sign that read "Valisthea 06.16" so many theorists believed that the game would be released on June 16. Valisthea is the name of the world where Final Fantasy XVI is set, and June 16 seemed like a good date, right?
But we didn't get the game in June, rather a new trailer that revealed the new planned release date – Summer 2023. We didn't get the exact date, but we did get the release window. Meaning if there are no further delays, Final Fantasy XVI should arrive on PlayStation 5 sometime during the summer of 2023. So, possibly 06.16 next year? Who knows.
Final Fantasy 16 Plot
Final Fantasy XVI is an action role-playing game set in Valisthea, a fantasy realm where people live a good life thanks to the Mothercrystals. The Grand Duchy of Rosaria, the Holy Empire of Sanbreque, the Kingdom of Waloed, the Dhalmekian Republic, the Iron Kingdom, and the Crystalline Dominion rule the world of Valisthea. Also, there are Eikons, summoned monsters controlled by or appearing through people known as Dominants that play an important role in the story. Square Enix recently launched an official website for Final Fantasy XVI that offers some insight into the upcoming installment's world and leading characters.
Main characters in FFXVI
Clive Rosfield
"In search of a role of his own, Clive dedicated himself to mastering the blade. His practice pays off when, at just fifteen years of age, he wins the ducal tournament and is dubbed the First Shield of Rosaria—tasked to guard the Phoenix and blessed with the ability to wield a part of his fire."
Joshua Rosfield
"Joshua often laments that it was he, the frail and bookish younger son, who was granted command of the firebird's flames, and not his stronger, braver brother."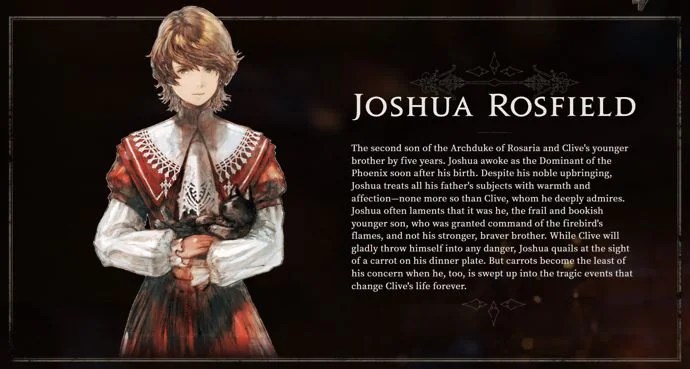 Jill Warrick
"Ever kind, gracious, and unassuming, Jill has become a trusted confidant to the brothers."
Final Fantasy 16 Trailer and Gameplay
Two trailers have been released so far for FFXVI in which we can see the game in action. The gameplay seems to be a mix of the systems from XV and VII Remake, with a few possible Devil May Cry elements. Judging from the first trailer, this could be the first Final Fantasy main game where players control only one character in battle.
Final Fantasy XVI 2020 Trailer
Final Fantasy 16 June 2022 State of Play Trailer
In the new trailer, we saw a lot more action with the Eikons, giant summoned monsters from the Final Fantasy XVI world, with some of the series favorites like Titan, Shiva, Ifrit, and more making a return. What's interesting is that we've also seen intense fights between them in a VS fighting game style – all with health bars at the top of the screen. Also, on the PlayStation Blog, after the premiere of the new trailer, two new characters were revealed – Hugo Kupko and Benedict Harman – both Dominants who have the power to summon and control the Eikons, Titan and Garuda.
Final Fantasy XVI Platforms
Final Fantasy XVI is currently planned as a hard PlayStation 5 exclusive title. A PC version could be released later, but has not been officially announced yet. There are also no reports about a PlayStation 4 release. The new trailer didn't provide any new information about the platform so we can assume that Final Fantasy 16 is still a PlayStation 5-only release.
Are you excited for Final Fantasy XVI? We certainly are! Expect extensive coverage of this title as the new information becomes available.